Muddy Roots
was, ever and always, Labor Day weekend – and here I am, over a month of dirt kickin' and shows later, finally putting a review together.
Were I a wizard, I'd feel better about the slow-going.
Thursday, September 1, 2016
Muddy Roots is held at the June Bug Ranch in Cookeville, TN. It's a perfectly reasonable place to travel…if you arrive in the sunshine. As for me, I got there with the stars high and a cool wind on my heels. I don't know why, after five years, I can't get to Muddy Roots without an adventure. This one involved missing a turn and driving through Standing Stone State Park. It's fulla curves and shadows and has a one-lane bridge that looks like a murder path.
I made camp on Chicago Hill. The full force of the Scumbags Drinking Club was already set up and James Hunnicutt serenaded from the pre-show.
It's a known fact that James Hunnicutt was made mortal through the flesh of former Dali Lamas and animated by the tears of Jesus, Allah, the Buddha, and Lemmy. Ain't a purer sound or better feelin' at Muddy Roots. You want zen in a Tennessee field? Hunnicutt's yer man.
* * *
Stump Tail Dolly closed out the night. They are some gloriously weird shit. It's metal meets country that feels like Sherri Moon Zombie wandering a Nashville Primus show on acid.
Friday, September 2, 2016
Windy. Overcast. Are you kidding me? No rain? No blister-heaving sun? THE BEST WEATHER EVER!
Deadly Lo-Fi SLAYED. GD groovy, hip swayin', spooky rock. I'm fairly certain that Vincent Price raises from the grave every All Hallows' Eve to throw a beach party bloodbath where Deadly Lo-Fi perform and the Cryptkeeper grinds on go-go ghouls.
I want to write a B-horror movie (or a grindhouse play) and have the dueling saxes and fuzzed out, psycho rock of Deadly Lo-Fi as the soundtrack.
I got a pal named Rude Joe. He sometimes has lunch on Muddy Waters' grave. I leaned over to him during the set and told him it sounds like the kinda band he'd play for Muddy that'd get his bones tappin'.
Deadly Lo-Fi make music for the Autumn People. Go. Now. Go listen. Here. This one. And this one.
* * *
Lonewolf OMB has a voice fulla gravel and murk. His mud-throated croon and blues is the kind I'd ass-shake to by a trashcan fire outside of Stax Records. Raunchy. Vigorous. Yowza.
* * *
Matt Heckler's a self-taught fiddler who sounds classically trained. The ginger-bearded bard made a tent fulla drunks hold their breath to melancholic mountain tunes. If you like foggy wooded walks, complex fiddle, and pleasantly sorrowful songs, check out his album Kaatskillachia.
* * *
A Pony Named Olga is primo polkabilly. Their country punk sounds like what yer grandma takes speed to while giving handies in the old folks' home coat closet.
* * *
Delaney Davidson plays fedora-wearin' folk noir. He's a master of the looping pedal, the six string, and strange effects. Davidson is a suited troubadour who seems like a man you'd see humming over Harry Blackstone's grave. He's got enough woe and poetry to pack a suitcase with.
* * *
W.T. Newton and the Ozark Blood played the open mic stage. Newton has a rock slide yowl that hollers out rotgut hymns and hardships. Matt Heckler guested on fiddle and Cris Bissell (of S.S. Web) capered 'cross the washboard makin' the three-piece a fiver, for the night. The American novelist Jim Harrison said, "I like grit, I like love and death, I'm tired of irony." You can hear those sentiments in Newton's songsmithing.
* * *
The Voodoo Glow Skulls are as full-tilt as ever turning a late night roots crowd into dance pit maniacs. There was a hella frenetic energy and PMA pouring out of 'em.
* * *
Slim Cessna's Auto Club killed it, as usual. If you haven't checked out their new album, The Commandments According to SCAC, you should. Deep, dark, and exquisitely telestic. SCAC would be the band booked at the bar that townies drifted into after Shirley Jackson's Lottery occurs. Click for radness.
* * *
Who was laying down listening to the The Calamity Cubes up on Chicago Hill? Me. #FailBoat #Spent #HowDidIMissThemTheyAreGorgeous #GoBuyAllTheirShit And then when yer done with that, buy Brook's solo doin's and take a gander at Joey Henry's, too.
Saturday, September 3, 2016
https://www.youtube.com/watch?v=Y4bY1RQUPDo
Rock Bottom String Band is SO BADASS! Mackenzie Dart's voice is like lace soaked in the blood of a riverboat flapper. There's a bit of vinegar in it and a whole lotta mystery. Meanwhile, Tara Miller is one of the best damn washboard players out there. I bet she could make a crowd dance with a rusted can and a broken stick. LOVE LOVE LOVE.
* * *
Smokestack Relics are a two-piece made out of brothers Cameron and Collin Webb. If I had a taxidermied alligator that was turned into a radio, I'd blast Smokestack Relics out of it. They got mud-stompin, dirty blues down.
* * *
The Drunken Cuddle's the kinda band you want to play yer dumpster pool party. They're a loudass, punk-roots two-piece that are GD compelling to watch. Katie Cuddle is an effing MONSTER on drums. She can go from ukulele-playing-nice-lady to I WILL EAT YOUR FACE headbanging pirate. Erik can make a fetish song sound sweet enough to sing to yer parents. See them. Give them greenbacks.
* * *
You want low-down, gutbucket booze tunes? S.S. Web could soundtrack yer frantic dash from debtors at an illegal, Midwestern casino. Or maybe it's the music you'd play to train a pet vulture so it'd drop meat cleavers on your foes.
* * *
Dylan Walshe throws all his cards on the table…and I imagine that table to be sat with Yeats and Shaw, shuffled around by Bob Dylan. Politics and heartwrecks aplenty.
* * *
Ever stomach-stab the Devil only to have her vomit fire into yer mouth for revenge? Me neither. But Gary Lindsey has a voice that sounds like he has. Black Eyed Vermillion plays whiskey-doom-punk with rage-for-living lyrics that Dylan Thomas'd bite his nails over.
* * *
Split Lip Rayfield play bat-outta-hell-fast bluegrass. They are technically intense…even with a third of the sound being provided by a gas-tank bass.
* * *
Jayke Orvis knows how to spread a stage in pain and glory. Broken times, bad habits, mangled hearts, bein' held, and holdin' up yer friends – it's all there. Can't wait to see what the dude puts out next.
* * *
Have you ever seen the movie Beasts of the Southern Wild? If not GO SEE IT. In the very least, check out the dreamy, surreal soundtrack. The Lost Bayou Ramblers were an integral part of that score and I GOT TO SEE THEM LIVE AT MUDDY ROOTS! Seriously smalls, I have written HOURS AND HOURS to that soundtrack on loop.
Lost Bayou Ramblers are the band that would be playing in a boarded-up Louisiana diner that's slowly sinking into a swamp but still has a waitress who goes there every Sunday to dance to the jukebox too heavy for her to move.
* * *
I mean. Is there ever going to be a time when I don't totally glow over Joseph Huber? We've been over this, world. I think that Joseph Huber is one of the best lyricist out there. His music is fulla the solace of open spaces and makes hurtin' not so horrid. Breakup music. Bar tunes. New beginnings. They're all there.
* * *
Flat Duo Jets I heard from Chicago Hill. Psycho roots and raging maniacs, after all these years. <3
* * *
The Melvins…doom grunge in the middle of a Tennessee field. Hella foreboding. Hella metal.
* * *
I missed Those Poor Bastards and the Hooten Hallers. It's more apt to say I heard them from Chicago Hill. It was late. I needed snackage. I found a slew'a folks I hadn't seen in a year and joined a huddle of hooligans. You want macabre autumn music? Those Poor Bastards are yer crooked band. (Lonesome Wyatt's even put out a Halloween album.) You want scab-pickin', swamp soul to jostle and thwack yer crotchal provinces to? HOOTEN HALLERS all the way, all night long...and then again, in the a.m., when you are chafed and achin'.
Sunday, September 4, 2016
Julian Davis is a pup. The Kansas kid can't even drink yet and he's out there flatpickin' festivals and appearing on America's Got Talent. He's walkin' the trail that Pokey LaFarge is blazing down. Hell yeah, he's a whole new generation interested in and exposing others to, western swing and bluegrass.
* * *
Brook Blanche plays acoustic Americana. He's a chronicler of fortunes folded. A rhapsodist of ruin and fervor. He's the music that the old man in Hemingway's "A Clean, Well-Lighted Place" plays when he finally gets back home.
* * *
J.D. Wilkes' hands on tin pin alley keys can make a crowd weak-kneed. He's a factotum of harmonious history and oddball art. I wouldn't be surprised if there was a backcountry, Kentucky curiosity shop run by geeks and demons scored by Wilkes' wild moon waltzes through the soul of yesteryear. Can't get enough of his Southern Gothic saunter and stroll? His first novel, The Vine That Ate the South, comes out in March.
* * *
Were the apparition of Emma Goldman to have a modern day Haymarket soiree, she'd hire Carrie Nation and the Speakeasy for the night. Their brass and grass, anarchic folk could just as easily motivate rug-cuttin' as revolution.
Goal: to write a story that reads as fast as those dudes play.
* * *
Adam Lee's got a pompadour you could crack Thor's hammer on and dark eyes that look like their searchin' you for a story. "Good Days" off his new album, Sincerely, Me, has been in my head for months. Live? You want to know how his voice holds up live? Effin' swoon worthy.
* * *
Everything's gonna be all right. It is. Because The Tillers exist. Even though yer buried under more dread and distress than there's dirt in the earth, their old time string band will take you to the cathedral of relief.
* * *
I wanna write a corn maze murder party movie. Reverend Peyton's Big Damn Band would be playing the center of the stalks…until they realize a sledgehammer slaughterer is swingin' left and right, mowing down the good people. Breezy'd smash him with her flame-filled washboard. The Rev. would stomp him for good measure then play a cigar box guitar on his twitching corpse. Which will reanimate, allowing Max to drumstick-stab the killer. Which is all to say that Reverend Peyton's Big Damn Band kicks up a fantastic ruckus and you should give them a listen.
* * *
Del McCoury is a polished man in a polished band with hella fetching suits. For two years in a row, the Del McCoury Band has kicked Muddy Roots' ass. He takes audience requests. He plays faster than folks half his age. Inspired by Earl Scruggs and drippin' Appalachian elegance, Del McCoury is a living link to bygone holler bluegrass. And he's frikkin funny.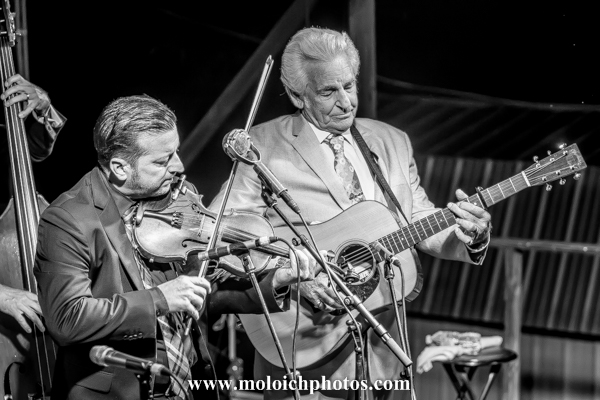 * * *
Morgan O'Kane's been banjo-buskin' New York streets since 2008. Dude's all over the place. You know that show Outsiders? He did their theme. It was a robust way to end Muddy Roots.
* * *
And that's it. That's all. A few hours later, I left the field. Drove back to Illinois.
...maybe some year soon I'll be able to hit up Muddy Roots Europe or Muddy Roots Brasil. That'd be a fine thing.
* * *
In the meantime, thank Eris for folks like Jason Galaz - the man behind everything Muddy Roots. He started a record label. He hosts at least six festivals a year and, now, he's even picked up sponsorship of Moonrunners in Chicago. Oh yeah, and in his free time (HA! What free time???), he opened up the Vinyl Bunker in Nashville, TN.
I don't really know the dude but the community of music-lovers, weirdoes, and bands he's helped cultivate has markedly changed my vision of how many innovative and artful undertakings one person can produce in a lifetime.
..time to go make good art.
Well, folks, I'm late to the dance.
I'd never been to Kansas City. Holy crap, dudes. It is P to the RETTY. It's got all these oddly painted neighborhoods. I passed a cool bookstore and was in a coupla swell bars and there was vegetarian or vegan food all over the place. Nice.
Dylan took over the Westport Saloon and Davey's Uptown Ramblers Club for his three-day birthday bender. Not joking. I mean, I thought I was badass being able to stay up till like 4, but then you see folks stumbling around the hotel at 7 a.m. and realize how weak sauce you are. But whatever. I need to sleep to dance. And I only heard about these inebriates from my pal Rude Joe. He was always awake. Me and Banana visited Joe and his hairdryer around 10 a.m., whereupon he gave us each an apple. He bought them from a bohemian woman who led a small parade (that included an egret) who followed her because she made music via foot-tambourine.
ANYWAYS!
DAY 1!
Friday, I drove from Iowa to Kansas City with a pal. The car ride disappeared into new-friending and talk of feminism and music.
The shitty part of Friday: VOMITING PROFUSELY. Bad Chinese food. Oi.
The second awful part about Friday: Not dancing that much due to stomach troubles. HMPH. Double hmph to Banana who has an IRON STOMACH OF POWER! who didn't get sick at all and was a DANCING MACHINE! I was jealous.
Bands that played on Friday:
Sterling Eugene and Josh Wardlaw
...who played pop covers at Dylan's request
...artist and bluesman who sounds like he was born in a dust storm and raised on a Mississippi porch. He released two albums in 2014 - Cold Water Collection and American Relic. Buy 'em.
...punk rock party songs whose interests include sweet nuzzes, cats, and whiskey. If they pass through your dive, you should see the show and then buy a shirt. And then buy one of Katie Marie Sternig's rad wood burn art pieces.
...this is the kind of midwestern Americana act that can cover "St. James Infirmary" and not sound like assholes. Gut-deep voices exploring dark corners of living. Loved them.
....manic energy put to everything from Bigfoot, pill-poppin, and workin' what you got...which may or may not mean masturbating.
...FILTHY SEXYASS BAND! The Hooten Hallers play dirty blues appropriate to howl outta pick-up trucks parked in front of juke joints where John Waters could get bathroom blowies.
DAY 2!
And then, DAMN! Saturday. Saturday was hella adventure because music didn't start till 9 p.m...so me, Banana, new pal Becky, and Rude Joe went WANDERING! No joke, we found a GLASS LABYRINTH! And GIANT SHUTTLECOCKS! and a VEGAN BRUNCH! and a FREE ART MUSEUM! I know. I know. Kansas City totally rocked it.
Bands that played on Saturday:
...an instrument-buildin', world-betterin', goddamn good one man band. You can get his album, Half-Lit and Whole-Hearted for a fin. Seriously, a five spot. GET IT! Also, I want this shirt.
...Rude Joe and I decided that Billy Cook looks like a disheveled community college professor who got fired about a month back and is on a bender. And seriously, SKILLS. Listen to "Salt and Meat" and tell me you don't want more.
Carrie Nation and the Speakeasy
...do I love watching this band? Yes. Do I love dancing to them more? YES. So...me and Banana went to the back of the bar for party-arm-swing-around space to their literate, history-infused, high-octane brassride of union songs and debauched livin'.
...Liz Sloan is my hero. She plays the fiddle so hard you can see God in her face. And Jared McGovern can work a standup bass and twang a banjo to my heart's content. Heck yeah, you should buy their everything.
...I've crowed about this man all over this blog and my former blog and EVERYWHERE EVER. Because his lyrics are poetry and poets are motherfucking important. The album Tongues of Fire - one of my favorites ever. What? He also makes furniture? I know. I WANT IT ALL.
...a goodtime band that can wreck your soul then fix it right. A three-piece off of Farmageddon Records, these dudes are hella nice and amazingly talented. See them live. The Calamity Cubes! play the sorta songs that could revive a crippled alley cat and make him dance.
DAY 3!
Oh god. There was more music. Definitely more music. What was the music? Day three...it was getting harder. There was a serious lack of sleep happening. A definite want of food. If you are ever in Kansas City, try Freebirds World Burrito. Best GIANORMO burrito ever. Split one with Banana and it gave the day the gusto it needed.
Bands the played:
...seek her out. She makes puppets and is a gorgeous singer. What else do you need???
...laidback singer of whiskey and worldly livin.
Joey Henry's Dirty Sunshine Club
...why yes, the three above are the three members of The Calamity Cubes! They each do solo work, too. Kody Oh's got a 90s rock vibe with a bluesman's voice. Brook Blanche does a full-bodied band of lowdown heartache songs. Joey Henry, well, he fills powers out surreal songs on the beauty and the bad in the world.
...I'm not sure but I feel I might be missing someone, damn it. But all of them were AWESOME.
* * *
And then I narrowly avoided driving home in a snowstorm while listening to Gone Girl by Gillian Flynn on audiobook. Yes, it is phenomenal. No, I have no idea why I waited this long to read it. Yes, I now want to read ALL HER BOOKS!
* * *
Hope you had a rad Valentine's Day weekend. I did. On top of everything else...I got THIS MESMERIZING SHIRT from M:
AND AND AND AND AND, a friend brought over baked goods last night. So I be cookie-nibblin...which, I guess turns me into a fearsome ghostlady:
I went to Kansas City to my pal Dylan's Big Birthday Bender Blowout Bash! Three days of music plus a slew of phenomenal freaks and funfolk I don't get to see that often.
Three Word Review: BUY THIS BOOK!
Slightly Extended Review:
C.S.E. Cooney makes me swoony...as displayed by this picture from a year-and-a-half ago posted on my tumblr:
The Dark Breakers series makes my insides turn to goo. I have decided to reshape this goo into hearts and vomit them at Cooney's feet. It's a heaping well-deserved.
Here's the summary:
Sculptor Gideon Alderwood can't decide if he worships Analise or loathes her. Novelist Analise Field is pretty sure that if Gideon cuts her one more time with the sharp side of his tongue, she'll grab a sledgehammer and break something other than his beautiful clay statues.
Neither can bear to live more than one wall apart from each other in the Seafall city garret they call home.
Gideon is determined that Analise will never discover the secret of his statues, lest her life be in as much danger as his. He will do anything to protect her, even if it means destroying their tenuous chance to be together. Analise will not stand by and watch any friend of hers fight an impossible war alone. If she has to walk through the shifting walls of Breaker House and into another world to help him, that's what she'll do.
But in order to go up against a magical Gentry army, Analise Field needs allies. Maybe even one she has to steal right out from under Gideon Alderwood's nose.
Great Things About The Two Paupers:
-ROMANCE!
-ADVENTURE!
-LOATHING and WITTICISMS!
-Can be read as a stand-alone (but hey, the First Dark Breakers bk - The Breaker Queen - was badass, too)
-It is a mere $2.99. DO IT. You know you want it.
If you like Georgette Heyer, Mary Robinette Kowal, and barb-trading romance...check out Cooney's Two Paupers.
Know what yer best friend is after a music festival rain?
Lay it down for solid ground and less brown splashing. Nobody likes brown splashing. OK, no one sober likes brown splashing. OK. OK. Maybe it was just me. I'm a priss. Keep your fucking mud splashes to yourself, you maniacs. I'm dirty enough.
So, Mr. Jason Galaz, ye who creates the fest, I appreciate your quick hay action. It was laid down as early as the first Sunday act.
Which was…
Dublin-raised Dylan Walshe is a singer-songwriter whose meditative, bleak lyrics declaim a world of broken people and busted politics struggling to pull themselves together. There's a tinge of Billy Bragg in his voice and a warmth to his soul.
I admit it. Sunday morning I was kinda in a meh mood. I was like GREAT. GREAT. WEATHER CHANNEL SAYS MORE RAIN.
Dylan Walshe totally changed my outlook. Seeing him as a Sunday-opener plugged me back into the cause…and the cause is seeing new, fabulous music – not bitching about sunburn or rain.
You're walking down a two lane road day-drinking a PBR. The only reason you have it is cause your ex threw it at yer favorite shirt when they told you to get the fuck out of the car. You hate your job. There's a hole in your shoe. You haven't done shit with yer life and you don't know what's next. Town is five miles and no shade away. All you want is someone to carry you home. The only thing keeping you from dirt-sitting and waiting to die are Matt Woods' introspective, stripped-down lyrics running through your head, reminding you you aren't alone.
Of course he killed it at Muddy Roots.
If you don't know Matt Woods, find him here. Here. And Here.
Terry Harmonica Bean is a Mississippi man who's been playing hill country blues his entire life. His daddy played the blues. His granddad made moonshine. He's steeped in tradition and strives to blow his harp as badass as Little Walter did. And when he ain't playing, he's spieling…and his stories are pretty damn powerful. Re:
"My daddy played the blues. He played with B.B. King, but he never did travel. My grandfather knew Robert Johnson well. And when you're from Mississippi, you just grow up around people playing the blues…Up where I live – in the hill country – that meant people like Big Joe Williams, Bukka White, R.L. Burnside, Junior Kimbrough and people like that. Now, my daddy and granddaddy knew all those people. They used to come to the house and play house parties and at that time..."
Here's me being a history dork, but…I AM NOW THREE STEPS AWAY FROM ROBERT JOHNSON! Step 1: I watched Terry Harmonica Bean. Step 2. Terry Harmonica Bean had a granddad. Step 3: That granddad knew Robert Johnson.
That's what Muddy Roots does – it not only connects you to new artists, it strengthens your understanding and appreciation of the scene's musical predecessors. It makes history feel a bit more real and linked to every day livin'.
The Dinosaur Truckers is a German 4-piece playing everything from atmospheric country to speedgrass. They bring rockabilly guitar to porch music. Hell. Yes. I'd never seen them before, but I sure as heck want to see them again.
My friend Banana and I both believe that Joe Buck Yourself looks like a hillbilly Cryptkeeper and that this is goddamn hot. So. There's that.
Outside of that…if you haven't ever heard of Joe Buck Yourself…he's a one-man band who makes the kinda music that could easily soundtrack everything from meth shed explosions to illegal boxing matches held in RV circles to stomping on the graves of your enemies.
So much love, I have for this man.
I only got to a catch a bit of them…but from what I heard, Everymen are rowdy, house party roots music. The lead singer has a voice that reminded me of Laura Grace from Against Me, if you tossed her throat in a woodchipper and filled it with whiskey. For example, this badass song.
You are always gonna win me over a little bit more if you give shoutouts to living or dead weirdoes in your music. The Imperial Rooster call themselves "gonzo roots music." R.I.P., Hunter S. Thompson. You are missed. But yes, I see it. If gonzo implies energetic, first person storytelling with regard to self-satire and social critique, then Imperial Rooster is aiming high and getting there by-and-by.
Rachel Brooke is always a crowd-pleaser. She's the reigning queen of the roots music scene, singing everything form sexy slowdowns to murder ballads.
I have crowed on and on about Joseph Huber. I'm not going to do it again.
Or maybe I will.
Huber's lyrics are innovative and poetic. I know they're good because he makes me jealous as a writer. I half love him and half want to chop his brain out, eat it, and hope that I've soaked in his talent. His music puts hope and comfort in the world, even though that world is fulla hurt and hard times.
AND HE MAKES GORGEOUS FURNITURE.
His newest album is The Hanging Road and you should buy it.
Me and ShawnaBanana and a whole slew of other folks danced our asses off when he played.
I'm not schooled in the accomplishments of Kansas, but they gave me the Calamity Cubes, and for that, they're in my Top Five States Ever list. Hard driving, anguished, and thoughtful, the Calamity Cubes are soulful sonsabitches who will always give you a good show. Accidental murder of a lover? Amiable breakup songs? Civil war stories? The one that got away? Skateboarding? Whole hearted, no matter the consequences? That's the Calamity Cubes.
I'm a damn heathen and hadn't ever heard of Bobby Bare before. Plaintive crooning, poise, and narrative songs that tend toward (or have become) country standards...Bobby Bare's a helluva a talented and interesting man.
Viva le Vox is a surreal, rock, swing, roots outfit that ranges from a two-piece to a full band. This Muddy Roots, Joe Buck Yourself was on standup bass and Tony Bones held down lead vocals, guitar, kazoo, and random other.
Ever accidentally rob a laundromat at 2 a.m., wearing only tightie whities and a cartoon skull mask? I'm just saying, if that has or is to happen, Viva le Vox should be playing in the getaway car.
I'm a fan
I think she's talented and she's so young that, damn, she's got a big career coming on, but I left the main stage as soon as I heard that the Hooten Hallers were setting up.
Let us pause to reflect on the brassy, batshit crazy beauty that is the Hooten Hallers:
https://www.youtube.com/watch?v=X32nogZZTFo
They play bathroom trashcan, hillbilly, rent party, ass-swaying soul.
It's music that cracks me open and makes me want more outta life than the smooth path. The Hooten Hallers are the kinda band that I want to constantly thank for existing. Their energy gives me more energy. Their creativity amps my own. They make my life a better life by making their music.
The Goddamn Gallows rode into Muddy Roots on a graveyard train and hollered on rot, ruin, and renewal. If you've never heard of them, you can watch this, or you can carve 47 crosses on a door, knock on it thrice, and when you open it, the Goddamn Gallows will walk through red-lit fog into your room. They are theatrical upstarts who began their careers as Old Scratch's house band. They still hold the record of being the only musicians the Devil didn't burn to dirt outta disappointment.
You. Need. To. See. Them. Live.
…and that was it. Muddy Roots 2014, over and done. Once again, Jason Galaz put on a world-widening, gd marvelous fest.
Y'all should meet me there next year.
Oh! Also. LOOK at this FAB, numbered print I bought! SO RAD!
PS - MEGA PS - Somewhere in there, early one day, Rachel Kate also played. Holy shit. Love her. Love her. LOVE HER. Buy all her things. See her live. SO GOOD.
EDIT! Here is Day 1. Here is Day 2. In case you missed 'em.
Originally published at Patty Templeton. Please leave any comments there.
Everybody knew it was going to happen. The rains, man, the rains. Weather Channel said there was a ONE HUNDRED PERCENT CHANCE of rain. Ugh.
Which meant…I was carrying around a poncho and umbrella for most of Saturday. They ended up being near useless. When the Weather Channel stated "rain," they meant to say "torrential downpour."
It proper-fucked the music schedule. BUT this is the kinda fest where people deal with the shit and keep going.
No, seriously. There was shit. Not much, but some. In an unfortunate moment of planning, one of the port-o-potties was at the bottom of a hill in a bit of shallow land. When the rains came, the water rose, and whoa-geez, though the port-o-potty remained standing, it, um…overflowed. From then on, it was either taking a high road up the stage hill or walking way-far-around to avoid the Shit Zone.
Let me take a moment to say, aside from the very manageable and pretty laughable incident above, the port-o-potties were AWESOME. Nobody likes pissing in a hot plastic box, but the company that ran the waste company was AMAZING. They came out every morning to clean the bathrooms.
I'm spending a helluva lotta space here talking deuce-crates, but it's IMPORTANT. The only thing worse than bowel-dropping in a sweatbox is trying to do that same function late in a fest after some jerkwad has pissed all over the toilet paper and it smells like a pile of vomit Frankensteined itself alive long enough to menstruate over a dead rat. The port-o-potties at Muddy Roots were just as clean on Sunday as they were Thursday night. That's frikkin awesome.
Moving on.
MUSIC! There was so much GOOD STUFF!
But here, I apologize again. I didn't see everything. I didn't even see some of the headliners. The weather was rain or drizzle rain or drizzle. By the end of the night I was feeling wet and cold and like I wanted to sit with new friends and listen to the music from my hill with food and shelter. I am a wuss. So what. I still had fun.
Here's what I saw!
Joey Henry's Dirty Sunshine Club
What a beautiful goddamn man, Joey Henry is. His projects – The Dirty Sunshine Club and the Calamity Cubes – remind me of Ray Bradbury saying, "You must stay drunk on writing, so reality cannot destroy you." Henry writes of life's setbacks and halleluiahs. His lyrics are earnest, existential, and imaginative and often feature relationships at the forefront. The clarity of his commentary on the power of love…He puts me in awe and jealousy, as a writer.
Imagine if Dell McCoury had a loveable shithead apprentice with face tattoos and a band…there's Rickett Pass. Cocaine, blame, heartbreak, swayable slowdowns, feverish livin'…definitely worth checking out live.
Dead Soldiers are the type of band that start playing and, BANG, it's like yer cannon-shot into a movie William Gay wrote. (And if you haven't read the great Southern writer William Gay – HOLY SHIT, come on. Dark…but no without hope.) They have an ambitious sound that ranges from woozy sing-a-longs to grim-graced introspective numbers. I like this one.
…my only problem is that, WTF…when did they start? I came from Rickett Pass expecting to see Blackbird Raum and Dead Soldiers were on.
…when Blackbird Raum did go on, they had to shorten the hell out of their set. I know it was a common theme of the day, but this was before the big rain happened.
Don't know Blackbird Raum? This is them:
Anarcho folk punk. Hell yes.
One night, Ramblin', Catastrophe, and Coffee sat around a fire.
Ramblin' said, "Where the hell we going?"
Catastrophe said, "Dunno, but I got some disasters for when we get there."
Coffee said, "Hmph." She was too satisfied with herself to notice anything else.
Lou Shields appeared and sat fireside. He drank the coffee, pocketed ramblin', and constrained catastrophe under his hat. Then he got to singing as he walked away.
Helluva bluesman, right there. And – look – he makes art, too.
I was weak-kneeing for food by the time that Last False Hope came on. I watched them from my hill kingdom of Snack and Drink.
If you don't know of Last False Hope, they are a feral, shout-it-out Americana act with an impressive fiddle player and madly energetic live shows.
Maybe because the weather has started to turn autumnal and it's putting me in a monster movie mood or maybe because I have a morbid storybrain all the time, but I can totally imagine their song "Two Dollar Pints" being played in a horror movie while a serial killer is rhythmically macheting folks apart while line dancing.
First wave punk oddities who prove that 30+ years after the fact, you can still be pissed at the world, strange, and out to have a good time. Booyah.
GAHHHHHHHHHHHHHHHHHH! I only caught part of the first song…because I realized it was 9 p.m. and at 9 p.m…
Reverend Beat-man
WENT ON!
By this time, the world was wet. Very. Very. Wet. Which made under the tent at Beat-man a mudpit. I hipshakeswayed on the edge of all of it, but here we are – two weeks after the fest – and my boots are still covered in Tennessee clay.
Reverend Beat-man…I just. I –
::swoons::
::face first into rhubarb toast and coffee::
::wakes up::
::slurps coffee off placemat::
…as for The Blasters, Gravelroad, Mudhoney, and Legendary Shack Shakers, you were goddamn gorgeous, too. But I was cold and wet and enjoying the company of folks under shelter…so I heard y'all from my hilltop.
For those that don't know The Blasters…their song "Dark Night" was in Tarantino's From Dusk Till Dawn. I KNOW! So hot. That song. Goddamn. It makes me want to write dirty, sexy, roadhouse erotica for fun and profit. They have Many. Good. Songs. Find them. Listen. Love. Send me your sexy dance videos.
And the Shack Shakers, sweet Eris, they are a hella fine band. Find them. See them. Buy all of their things. You want a crowd-walking crazy stage show with the best agridustrial, almost carnie leadsinger of all time? Go see Wilkes perform w/ the Shack Shakers.
SO MUCH GOOD MUSIC.
Hitch yer horse back here in a coupla days for Day 3.
EDIT! Miss Day 1? Here it is. And here's Day 3.
Side note: I don't know if you know this, but potatoes are a food imbued with magic. If you ingest them at 70 mph they not only delight you, but they fill you with unnatural powers (invisibility, perfect avocado-finding, ESP, etc). Especially potato-foods infused with starlight.
Side note II: First side note…total lie. No unnatural powers are potato-given. You have to beg random devils at midnight crossroads in a long, hard mystical haul for special powers. Ain't no shortcuts to magicianship.
This year…I DIDN'T GET LOST!
Hell yeah for learning and better routes. Also, printed directions. Never trust GPS to holdout in the mountains-o-Tennessee. My guess is that the kudzu smacks satellite signals away when the world blinks.
But there she sat, the Junebug Boogie Ranch. Dive bar at the top of a hill. Outdoor, but covered showers. Green slopes. A midway with one outdoor and two tent-covered stages, food vendors, merch tables, a fortuneteller. Not many lights. Campers galore. Ditches…even more. So many that golf carts and cars alike are bound to be found in them come morning. Known for its biker rallies, the Junebug has a rolling layout. There be hills, darlings. Lots of them. And, if you are experienced, you are aware that you should camp on a hill…not at the bottom of one…this information will come in handy later.
For now…
HOLY SHIT! YES! MUDDY! EFFIN! ROOTS!
The coolass thing about Muddy Roots is that it's a fest where people start to get familiar or be friends – because it's a small gathering. When I tell folks about it they are like, "Oh, so it's like Lollapalooza or Pitchfork for country?" And I'm like, "Nope. Not really." Those fests garner attendance levels of 48,000 – 300,000. I don't think Muddy Roots has topped 3,500.
Yep, it's the size of a bigass high school. Which means you get to know and recognize folks who are repeat attenders. It is RAD.
::sips red drink out of leopard print glass::
On to the important shit. Who played and how badass they were!
…Wait. First. I apologize. This may or may not be in order. I have no idea. It all becomes a blur. I am going from a beat-up, rained on schedule and memories. Additionally, I sure as shit didn't see everything because – you know – there needs to be time for sleep and food.
ON TO IT!
Muddy Roots 2014, Pre-Show: Thursday, August 28, 2014
…Unfortunately, I missed Woody Pines due to the aforementioned 12-hour drive.
And then there was…
Jayke Orvis and the Broken Band
Ho – lee shit. This was the Broken Band's last performance…ever? Seems to be so.
Jayke Orvis and the Broken band was made up of Orivs, Jared McGovern, Liz Sloan (the former two have a side project called the Urban Pioneers), and James Hunnicutt (who does epic solo shit).
I don't even know what the hell to say about this. Congregated before me was a group of musicians I highly regard who do amazing shit both together and separately. If you never got to see the high-test mandolin crazy that was Jayke Orvis' playing, fear not, he's bound to have another project…but really, this was a killer lineup.
You want hella fast instrumentals? Maybe downtrodden ballads? Love? Desperation? Hank Williams covers? ALL HERE.
Fuck. I'm going to miss this band.
Thursday, I fell to sleep a happy woman.
Speaking of bed. I slept in my car.
I am a shit camper. I am a shit camper because I choose to not buy camping equipment and sleep in my car. Then again, I choose to sleep in my car because I do not trust my budget to afford me camping equipment that can withstand rain…and it rains often at Muddy Roots. Once a year. Usually.
More on this later.
Muddy Roots, Day 1: Friday, August 29, 2014
If yer lookin' for suspendered and steampunk-goggled rastabilly, Mad Polecats are the bounce-ditty good time you need. What is rastabilly? Who the hell knows? Let's go with rockabilly roots music influenced by reggae and ska-punk.
Outlaw country in patched-up punk rock jackets. The type of band whose forlorn, hard-livin' sound spills out of the bar's backdoor while yer pissing on a dumpster.
My pal Rude Joe says to me, "You should see Dave Arcari. He's the Lemmy of Scotland." …and OF COURSE I went. Dave Arcari is a one man band. He's this dark-haired, Glaswegian SOB who shouts and bounds across the stage as if chased by the ghosts of Blind Willie Johnson and Joe Strummer. Dude's got the mad mash of rock and roll and delta blues down. His voice sounds like he eats Mississippi shale and scotch for breakfast.
Fucking love this guy. Go listen to him. Here. And here. And here is where you can buy stuff.
Driving down Route 66 in a black Cadillac? Polka dot and curled hair cocktail party coming up? Maybe you need a song to murder yer cheatin' man to? Try on The Buzz Jumpers, a striding, jump blues band powered by the raven-haired Johnnie Mae.
When you think old-time string band, you might not picture bleached hair streaks and neck tattoos, but that's what you get with the Urban Pioneers. Liz Sloan's on fiddle, Jared McGovern's got claw-hammer banjo, and Guido Greasebag's on standup bass. Sloan sounds like she swallowed a holler. Her voice recalls early Appalachian tunes where oddity is half the beauty. No one sounds like her. So good. The Urban Pioneers are exuberant roots music full of road songs and the beauty of livin'. See. Them. Live.
JD Wilkes and the Dirt Daubers
If you thought you knew the Dirt Daubers, shit has changed. The last time I saw them, they had an old time, acoustic twang. They're now a gutsy, raw, rock and roll four-piece. The roots influences are still there, but it don't matter if it's Jessica or J.D. Wilkes singing – both deliver swaggering theatrics and wailing blues.
Shit. Yes.
This song deserves to be a backseat sex soundtrack. And this one? This one is one of the most free-wheelin' break-up songs ever.
Yo. For serious. I fucking love The Tillers.
Think modern music is all sugarpop or bombast? The Tillers are here to say different. Listen to this. Or this. Or this. True story: two clubs in Cincinnati and one in Chicago had to squeegee and bleach their floors after The Tillers' wistful, philosophical folk made everyone's hearts melt and leak onto the tile.
The Sonics shriek a goddamn gorgeous racket into the world – and they've been at it since the '60s. They're a band I didn't know that I knew. Don't think you know them either? This "Have Love, Will Travel" cover sound familiar? Recognize this opening:
"Some folks like water
Some folks like wine
But I like the taste
Of straight strychnine"
YEAH! They're the ones who wrote "Strychnine."
Equal parts crude garage covers and rowdy, organ and saxophone-infused originals, The Sonics motherfucking slayed Muddy Roots. Hands down, I danced hardest to them all weekend.
If you don't have Pokey Lafarge on your summertime potluck mix, sitting between Django and Old Crow, yer missing out. His ragtime country blues is so hot it'll cook the corn and sear the steaks. If you don't watch out, it'll kick up the punch, too, then Grams'll be swinging and singing 'round the visiting preacher. It's easy to see why Jack White signed him to Third Man Records. Pokey Lafarge is equal parts self-taught musician and cultural preservationist, but he has no interest in being a retro-act. Retro implies he's only interested in digging up and reliving the past. What he wants is to create is timeless, American music.
"Timelessness is what I'm working towards and time is the very thing it will take in order to solidify myself in the eyes of the world. I'll let the fads fade away, I'll let the generations evolve, and I'll evolve with them."
Did you catch his Ted Talk? He further elucidates upon the idea of "evolving through preservation."
The Monsters
Fact: The Monsters burst forth from a Swiss bog used as a dumping ground for banned records, the bodies of swindling evangelists, and toxic waste. Their purpose? To extol the virtues of rockabilly blues trash and getting laid.
A-fucking-men.
* * *
…and that, my boils and ghouls, was Muddy Roots, Day 1. Come back soon for Day 2 – wherein, THE RAINS CAME.
EDIT! Here is Day 2. And here is Day 3.
I ate a helluva lot of peanuts on my way to Muddy Roots. SACKS of them. Yes, dear reader, I ingested nut sacks. These things. They happen. Why? Because it was TWELVE HOURS from Iowa to Tennessee. That's abt four albums longer than last year's drive from Chicago to Cookeville. There may have been chips. OK. OK. There were chips. And fries. But what the hell is a roadtrip without crap food? It can't be all cashews and water.
It sounds like a simple thing...ask for what you want. Who wouldn't do that? Well, me. It's a matter of being shy. It's a matter of wanting to do everything myself and pay for everything myself and not be an imposition on anyone.
But asking for help, asking for a deal, asking for little things, big things, expensive things, cheap things...it is worth learning to do. People will often surprise you with the lending hand that they are willing to give.
Example:
I knew that I would have a two day stopover in Chicago between going to ReaderCon the second weekend of July and going to DetCon1 the next weekend. A Tuesday and a Wednesday...that's all I would have in Chicago. With only two weeks lead time, I decided to ask around the bars I worked at and frequented to see if any would give me a space (cheap to free) for my book release party on either that Tuesday or Wednesday.
And, hell yeah, I ended up getting a yes from Miss Liz, the owner of Lizard's Liquid Lounge.
I'd only been to Lizard's once before. It was for an art show of my friends Lisa (who makes urban-scened stained glass) and Tattooface Miller (who makes odd and macabre paintings). Armed only with the vague knowledge that the owner lady kinda supported local artists, I shot the bar a polite email and hoped for the best.
And the best returned back to me. Lizard's absolutely had an opening on Wednesday and I could have it on the cheap to free range. They even put me in their email newsletter, on their calendar, and their Facebook page.
I had a venue...but what next?
I knew two different friends who worked (or had formerly worked) at Chicago newspapers. I asked both for casual mentions or profiles of the book release party. Boom. The Chicago Reader did a short interview on me and mentioned my book release party on their blog and the Chicago RedEye did a two sentence mention of me in their events the week of the release party.
...I mean, it ain't much, but sure as hell ain't nothing. And it didn't hurt anyone to ask.
Additionally, I made a Facebook invite, put info on my blog, emailed folks, and mentioned the party on tumblr. I also lined up a friend to work the merch booth for me at the release party, that way I would be free to mingle.
What the hell do you do at a book release party? SHMOOZE! with people that love you and/or are interested in you. I ended up having about 40-50 folks in the room at any given time. It was phenomenal. I set up a merch booth with books, postcards, buttons, and random other. Check it:
Mind you, none of this would have been possible without my best friend. I shit you not. I sent her this whining Facebook message saying..."Blah blah blah, don't really feel like doing a book release party...blah whine blah...don't really wanna do a reading between two cons." She set my ass straight. She reminded me that it was a celebration. Not work. She reminded me that a lot of people helped get my book out with their support and love and why the hell shouldn't I have a party for myself and them? And I'm glad I did. Because, geez, I sold some books and more so, I got a helluva lot of hugs and "I'm proud of you" statements. Which means a lot in a job where you spend most of yer time alone in a room, staring at a wall, wondering if anyone actually hears yer shouting into the void.
There was affordable booze for those that wanted it, snacks, a raffle, a reading, and a whole lotta talking. And some kind folks took pictures. Here's a few:
There's more that went into making this night, but what indie authors need to know is this: it never hurts to ask for things cheap or free. The worst that can happen is that they say no. Be polite. Have a plan. Just ask.
The best damn lesson that I've learned in the past year is to ask for what I want. Sometimes you get what you ask for.
It took gut-churning grit and determination, but I did it. I published my first novel, There Is No Lovely End. <---- See what I did there? I LINKED TO WHERE YOU CAN BUY IT! What? You can buy my book? SO WEIRD! I am used to seeing it in a stack of ratty, coffee-ringed papers on my desk. Now it's all bound and beautiful.
Know what makes a pretty book prettier? When you put a BONE ON IT!
In additional news!
Hear ye, hear ye, I HAVE A BOOK TRAILER! Done by the Fantastic! Patient! And Astounding! Rule2 Productions. With music by The Goddamn Gallows! What? You love the Gallows? ME TOO! Check it:
And if all that weren't enough to give a gal a grand grin...I AM GOING ON TOUR!
OK, just a mini-tour...but, hey, if you are around Boston, Detroit, or Chicago come say hello. Here's my schedule the next two weeks:
July 10 – 14, 2014
ReaderCon, Burlington, MA
Friday, July 11th, 4 p.m. – The "Inspire" room - I will be guest reading with the Banjo Apocalypse Crinoline Troubadours.
July 16, 2014
There Is No Lovely End Book Release Party
Lizard's Liquid Lounge, 7 – 10 p.m.
Chicago, IL
July 17 – 20, 2014
DetCon1, Detroit
Friday, July 18th, 4 – 8 p.m. – Artists/Author Alley Table in the Ontario Exhibit Hall – I will be chatting and selling my book.
Saturday, July 19th, 11 a.m. – Nicolet A - Econ 101 of Self-Publishing Panel
Saturday, July 19th, 3 p.m. – Joliet A - Join Elwin Cotman and myself for a reading!
Saturday, July 19th, 5 p.m. – Nicolet A – Science Fiction and Heavy Metal Panel
...and then...somewhere around the 7/24 I have a private bookclub event. And then... THEN! I will rest on July 25th. It will be grand. I will READ A BOOK! Not my own. Someone else's. Perhaps, I'll finally get to read the Long Hidden anthology.
But now...now I EAT CHIPS!
I did it.
PROLOGUE
I'm busier than a one-eyed cat watchin' three rat holes. I apologize, dear friends, for not hollering around this blog often. Believe you me, once I press publish on the book (which should be about…July 1st [only 2 months longer than I thought it would take]) I am going to be ALL OVER YOU. I miss the swagger and fuss that is this blog. Tumblr is nice and all, but here's a place where a gal can spread herself out.
As I haven't been around, there are a few mega blogs that have slipped by my fingers. So I'm gonna do a few recap posts this week.
RECAP 1, GO!
The end of May is supposed to be warm, right? Nope. Not this time around. The Muddy Roots Spring Weekender was held in Nashville, IN on May 16 – 17. It was drizzling and cold. BUT! That did not stop the fest from kicking ass. Held at Explore Brown County, Valley Branch Retreat, the MRSW brought together abt 500 folks who love roots music. What was the main draw? Dr. Ralph Stanley. But I get ahead of myself.
Or maybe I don't. Being as I waited about a damn month to write this blog…all I have are tidbits. So here's what I'm gonna do. Give you a Top Five.
The Dread Templeton's Top Five Music Moments of the Muddy Roots Spring Weekender!
::whistles and whizbangs go off in the distance::
::glittery flower petals drop from the sky::
Jayke Orvis is going to be a taking a slight hiatus from touring…and I got to see him one last time before that happened. Hell yeah.
If you don't know Orvis, he started as the mandolin player in the .357 String Band, went on to play in the Goddamn Gallows, and then started the Broken Band. Dude plays mandolin faster than a meth cheetah runs.
Plus, Jared McGovern (upright bass) proposed to Liz Sloan (fiddle) at the end of the set....and, yes, I teared up. (Side note: Jared and Liz have a killer side project: The Urban Pioneers)
4. Dr. Ralph Stanley and His Clinch Mountain Boys Closing Saturday Night
Before arthritis caught up with him, Dr. Ralph Stanley was known for his distinctive clawhammer banjo playin' and his keening, Appalachian voice in the legendary Stanley Brothers duo. Most folks these days known him because of the dirge "O Death," which was featured in the movie O Brother, Where Art Thou.
It was full-on night when Dr. Ralph Stanley and His Clinch Mountain Boys took the stage. It was witnessing history.
Dad Horse plays basement gospel. He brings a dapper suit, usually with a cravat, and a foot organ to the show. He is a one man band who will lighten your heart with a mix of old mountain tunes and his own odd brand of positive energy. He can make songs about dead dogs and exploding buildings poetic.
Halfway through his set, Dad Horse said anyone who wanted to sit on stage with him could. SO I TOTALLY DID! Along with about ten others. When he sang "Lord Must Fix My Soul" we became his defector dancing choir. I had arms full of friends and sang loud. I do not sing. Or I do, but only in my car and in front of the microwave while waiting for tea water…meaning I sing places where I won't be heard because…trust me, you'd rather have bees with machetes in yer ears. BUT for Dad Horse, I sang.
HOLY F, people. Megan Jean and the KFB (Klay Family Band). I just. I.
::pauses to catch breath::
I didn't get to see all of Megan Jean, but what I did, I LOVED. It's Megan Jean on washboard, vocals, and snare drum. Byrne Klay (her fella) is on banjo.


"THESE BONES"…no. I am not going to say anything. Just watch this:


https://www.youtube.com/watch?v=GQp3u-dWhMg&feature=kp
THAT VOICE! Postcards from the afterlife? Hell yeah. This band totally makes me want to write stories. Lots and lots of stories. Like a story about sending or receiving postcards from the afterlife. LOVE.
….
AND! My top musical moment of the MRSW was...
….
Here's the thing, I don't care what anyone else says. My blog equals my say, and I say that the best goddamn song at Muddy Roots Spring Weekender was James Hunnicutt covering Cocksparer's "We're Coming Back."
It warmed the damn cockles of my heart.
I had my arm around my fella and was singing along.
The song sums up every gd Muddy Roots ever…knowing that somewhere out there there are people like you, who love what you love, who are directing positive, creative energy into the world.
https://www.youtube.com/watch?v=voxswLwzLe0
Post Script - Holy shit, seeing The Tillers was phenomenal. Dancing to "Old Westside"...yeah, heart-expanding moment. The Calamity Cubes killed it, like usual. The Pine Hill Haints...SO GOOD. I got crazy bat shirt.
...Ok, I'm gonna stop...because the whole damn weekend was great. You can trust Jason Galaz to create badass music fests. Dudes got a love for the music and the people he's working with, and it shows.