Friday went like this...WORK WORK WORK. Get distracted at work. Not want to be at work. Thinking about leaving for Wisconsin for a writing convention. Getting a headache. Listening to everyone in the workroom talking way too loudly about their grandkids and grilling small animals and big animals and BBQ sauce and their four day weekends and meanwhile my headache is stupid and blegh, but not screamy, but I am like whatever and WORK WORK WORK some more.
And then.
Then.
I get to the point where I am all Bartleby, "I would prefer not to."
So I leave work 3 hours early and go to...
The magical land of Madison.
No, seriously, Madison is frikkin awesome. The houses are all Victorian pretty and rambly and they look like they should all be 1890s or 1950s boarding houses. They have porches. PORCHES that I want. Or balconies. I dig it, man. Plus on Saturdays they have this EPIC farmers market that goes all around the town square in front of the capital building. SNAZZY.
Each year fantasy and sci-fi writers plague Madison for WisCon, a feminist sci-fi and fantasy writing convention.
I admit, this year I was frazzled. I should have taken Friday off. Officially, the con starts Friday. Panels and readings are going on. But I couldn't spare the dang vacation time. BAH! But Anyways, I got there and it was beautiful because I walked in the door to two beautiful friends (Ms. Katie and Ms. Alex) who swooped me off to eat a Himalayan joint a jaunt down State Street. Nom to the frikkin oh yeah. And because I descended on WisCon later than normal, by the time we got back to the room and I was
registered and had my badge and what not, it was time to MAKE THE PARTY ROUNDS!
This is how it is. Panels and readings and business by day. Hotel parties by night. Writers, they are a mad lot. Usually a mad, drunk lot. Meaning, I changed out of my gray pin-up dress before anyone could swill, sidestep then spill on me.
There was karaoke...did you know that "99 Luft Balloons" is really an apocalypse song? ME NEITHER?
Benjamin Rosenbaum
kindly explained the spec-fic nature of the song to me after he sang it in German. I think it was German. His rendition was impressive and sounded much more punk rock than new wave. I liked it infinitely better than the original. Speaking of Mr. Rosenbaum, he is a FAB writer. You should buy his short story collection,
The Ant King and Other Stories
.
Then there was the Queers Dig Time Lords party. Because yes, absolutely yes, there needs to be a LGBTQ Dr. Who party. The party was in honor of the book of essays,
Queers Dig Time Lords: A Celebration of Dr. Who by the LGBTQ Fans Who Love It
, put out by Mad Norwegian Press.
Quite honestly, there were a zillion parties on floor six and I went to all of them and then I fell over into bed, wherein I PRACTICED!
What could I possibly practice in bed? Nothing lascivious last Friday, my darlings. I had to read aloud and time my novel excerpt and give it another go-through because on Saturday I was scheduled for a reading. POW! That's right. Who be reading all up at a con? Me! I figure if this is gonna be the only con I go to this year, I need to damn well read at it. And I did. BUT FIRST! There was lots of other stuff.
Saturday hit and DANG! there was some hella good programming going on. Favorites of the day:
Strong Female Characters Vs. Kickass Babes
- where Alex Bledsoe, Holly McDowell, Julia Dvorin, Rebecca Holden and Caroline Pruett discussed what made a strong female character outside of sheer physical strength.
Outer Secrets
- Was a poetry reading by The Secret Poetry Cabal. - HAIL ERIS AND ALL THAT IS HOLY, what a hella good poetry reading. I mean, crap. I lose words thinking about it. There were about eleven readers and every damn one of them was phenomenal. Standouts were Amal El-Mohtar, Julia Rios, Gwynne Garfinkle, oh hell. All of everyone who read at this reading was mind blowing
THEN IT WAS TIME! Time for my reading. OK, well, first there was more delicious food and some random booth-cuddling with pretty ladies I hadn't seen in a year, BUT yeah, reading time.
I am always a bit shakey and nervous before a reading. It doesn't matter that I've done hundreds of these, by now. Doesn't matter if I practice. My stomach is fluttery and my hands want to shake, no matter how many times I've read through my piece.
Can I say that, wow, just wow, I read with some incredible broads?
Lisa Bradley
...if you don't know her, you should. She kicked my ass with her poetry.
Alex Dally McFarlane
is an academic spec fic writer that always makes me feel smarter after having read or heard her.
Shira Lipkin
is a wonderwoman who seems able to be all places at once and will write anything if she likes the person doing the double-dog-daring her to do it. Our reading was called
Spindles and Spitfire
. This was the program description:
Join us for a reading packed full of sinister whimsy, hidden hearts, folkloric sensibilities and SNACKS! Lisa Bradley dances with the skeletons in her closet. Shira Lipkin will apparently write anything if you dare her to on Twitter. Alex Dally MacFarlane works at a spindle of bones and gold. Patty Templeton writes hellpunk in a handbasket, full of ghosts, freaks and fools.

And so we kicked ass and gave out candy. THEN!

TWO PEOPLE! not one, TWO! Came up to me and told me that they came to the reading because they wanted to hear more of my novel, which they had heard part of last year. And I was like WHAT? WHAT? HOLY CRAP! You remembered me? And my novel? And you want more? I mean, OF COURSE YOU WANT MORE! YES! I WILL FINISH THIS DAMN THING! And so it will be.

Did I mention I am almost done? Like for reals? Like I have a to-do list that is less than one page of a yellow legal pad and SHIT IS GETTING MARKED OFF EVERY DAY! Whap. Pow. Zap. Huzzah. June 7th it's going to beta readers.

There was more. There always is. My more included getting home, a man with a banjo, the new Arrested Development and writing a hellton.

Smoochie boochies. I'm out.
UHHHHHHHHHHHHHHHHH. What a whirlwind GD weekend, man.
Ahem...That's PEACE LOVE UNITY RESPECT! for all of you who didn't go to raves a decade plus ago. I dunno. Do the furry-booted, barely clothed candy girls and boys out there still say that shit? Who knows? Didn't hear it this weekend. Why would I have heard it this weekend? Because I done went to a rave. Ish. Whatever. On Saturday.
First look at
this
. Waka Waka. Buzzfeed, I love you. You with your comparisons of ravers in the 90s vs. now. I mean, really, I did think I was being awesomely slutty back when I was 16 and going to houseparty raves under the el tracks with my older brother, but apparently, my half shirt and glitter lips ain't got nothing on the one inch tube skirts and smiles people are dancing to ye ol Skrillex in.
BACK TO! I went to a rave on Saturday, but really, is a rave a rave when there is a set amount of people allowed in? And it's held in a Hyatt near the airport? DOESN'T MATTER! It was at ACEN! An anime convention that happens every year in Chicagoland at the Rosemont Horizon. Did I have passes to ACEN? No. I was there with Professor M. (mine fella) and a friend I will call, Tall Shoulders.
So me, Tall Shoulders and hella hot Professor M. last minute decide we are going to ACEN and we don't have passes so we ain't getting into panels or the dealers' room, but we sure as hell can run around the Hyatt and meet people and enjoy the cosplay going on. AND EVERYONE IS COSPLAYING! The Professor and Tall Shoulders, they assure, me, they say, "No, really, we will have fun even without passes, just hanging out at the hotel." And so we go and it is AWESOME!
I saw a
One Punch Man
costume. I bring this up because he was my favorite of the con. Do you know
One Punch Man
?
You should!
So fun. Ridiculous. I wanna be him for Halloween.
I saw many splendors. Sexy Marios. Sexy Luigis. Elf children. A remarkable Link (from
Zelda
). A breakdancer. The dead twins from
The Shining
. The Nurses from
Silent Hill
. A Tardis. Jesus. Schoolgirls and steampunk aplenty. Gothic Lolita folks. Furries. Fashion was all over the GD place. It was beautiful. I enjoyed it greatly.
And then.
And then.
AND THEN!
Me, the Professor and Tall Shoulders decided on departing, but we figured...why not go to the dance party rave thing? WHY NOT? Ok, maybe because there was a line around the block that started at 5 pm. Uh. No. Not worth it. I can dance in my living room without a two hour wait.
Now people. I will pause here. I will pause here to tell you that I am a square. I have never snuck into anything in my life. I'm a wusspants.
AND YET! Me, Professor and Tall Shoulders SNUCK INTO THE RAVE! I am not gonna say how, but it involved the bowels of the hotel and kitchen staff and what I think might have been a Ukrainian accent. We get into the rave and I'm all
WHAT THE EF IS THIS S?
I was disappointed. The music was...ok. The people were more bounce-with-glowsticks than
throw-sick-liquid
. But it was ok.
And then Sunday I was half asleep half the day and the other half I was writing. I got a hell ton done.
*
Random: Right now it is thunderstorming and I just finished watching Dave Grohl's keynote speech at SXSW. I have to say, it wasn't as good as
The Boss' last year
, but it was pretty rad. Here, have some.
Cool quote:
"I was possessed and empowered and inspired and enraged and so in love with life and so in love with music that it had the power to incite a fucking riot, or an emotion, or to start a revolution, or just to save a young boy's life.
So I joined a band, dropped out of high school, and hit the road. I starved. My hands bled. If I slept, I slept on floors. I slept on stages. I slept on the fucking floors under the fucking stages. And I loved every minute of it. Because I was free."
*
I am suddenly starving. Time to find the noms.



PLUR, BITCHES! PLUR!
Nah.
Pause.
Wait.
Let's try that again.
Me and
my fella
.
YEP! That's right ladies and germs, I done bagged myself a MAN. Re:
Me and my man - a lean, dark haired, banjo pickin', surf guitar slinging, combat boot wearing, show moshing, foot massaging, beautiful son of a bitch, me and he, we went on out to Reggie's last weekend for the Moonrunners Music Fest. 30 bucks for 20+ bands on 2 stages...yeah, I'm there.
For those of you who haven't been to Reggie's, it's a southside music venue made up of a small bar (the Music Joint), a larger concert hall (the Rock Club), Record Breakers music store on the second floor and a rooftop deck. There's street parking by meter...unless...UNLESS!!! You know where the magical FREE PARKING SPOT IS! Which I do. Which I will not share here. Because I am a heartless beast. But maybe if you ask me nicely, in person, I will let you in on the secret.
Moonrunners supposedly sold out about a week and a half before the show. I had terrified visions of not being able to see over tall-shoulder, PBR swilling, sweat-flinging bastards ala other summer festivals. Which would've sucked, but somehow, I never felt cramped and there was always dancing room. Which makes me happy. It always blows horseballs when you get a mouthful of someone else's backsweat. Ugh.
For a first time festival, created by Jashie P. of
Outlaw Radio Chicago
, Moonrunners got a helluva lot right. Shit man, you got Fifth on the Floor, Jayke Orvis and the Broken Band, Pearls Mahone, The Calamity Cubes, Hellbound Glory, Possessed by Paul James, Rachel Brooke, James Hunnicutt and Scott H. Biram --- ALL ON THE SAME BILL! Yeah, that's a fuck-yeah first year line-up. Not to mention, Shooter Jennings, and a slew of other, lesser-knows, but just-as-awesomes, like Nellie Wilson, Ol' Red Shed (now called Coondog and the Stumpjumpers), the Dirty Generals and T. Junior. All of this, and a $10 all you can eat buffet (vegetarian, but not vegan friendly), plus in-and-out privileges so you can sneak off to your own car for snacks and shenanigans. GOOD TIMES!
Ya know who blew me out of the water?
Fifth on the Floor
. Fifth on the Floor were the Fuck to my Yeah. They were AWESOME, ok? OK? GO SEE THEM!
Buy their shit
. Listen to them on Spotify, but definitely GO SEE THEM LIVE. They played at about 5 pm and they could've been the headliner. In fact, they kicked everyone's ass. Everyone. I love Scott H. Biram. Let me say that again - I dance my ass off and see Biram every time he's to town, and still, STILL! I would say Fifth on the Floor was my favorite of the night. What you got is a rowdy bunch who sounded like they took influence from Hank to Creedance. The had a layer of don't-need-anyone, but respect-your-roots attitude. Hail Eris and all that is Chaos, you can sure as hell dance to them. And it's pretty damn good writing, too...
"I'm drinking my whiskey till you miss me" --- YEAH!
(From "Whiskey" off of Ashes and Angels)
"I never had a real good woman, cause I really ain't a real good man." --- DIG IT!
(From "Whiskey" off of Ashes and Angels)
"Boys take them 'ol records down,
Light 'em on fire, put 'em in the ground,
This ol' black suit, this tarnished crown,
Music City's burnin' down." ---DOUBLE YEAH! because I can't get enough of Fuck-Nashville songs.
("Burnin' Nashville Down" off Ashes and Angels)
Here, have a sip and swallow of some Fifth on the Floor:

The Calamity Cubes
were next up in the HOLY SHIT, I LOVE YOU department. The Music Joint got packed, fast for this Kansas-based trio. But IT WASN'T a TRIO!
Possessed by Paul James
got all up in their set playing the fiddle. Can I hear an amen? :: AMEN ::
Let me pause to put in a detractor from Moonrunners Music Fest...they did two things that irritated the S out of me.
1. They didn't post the line-up schedule till the day of the concert.
2. Half the day had overlapping bands.
This connects to the Calmity Cubes BECAUSE! Jayke Orvis was playing next door. Jayke Orvis started at 6:20 and went till 7:05. Calamity Cubes started at 6:45 and went till 7:35. Meaning, to catch the Cubes when they started, you had to ditch Jayke Orvis. Now, I've seen Orvis and the Broken Band play, I dunno, at least three times, but he is SO GOOD. And I didn't want to leave. But I did. I'm glad I did because the Calamity Cubes were GD worth it, but CRAP. Come on, why the overlap? Some B and S. I'd rather have one less band on a schedule or go later into the night to not have that stupid running from one room to the next crap, missing fifteen minutes here and there of half the bands. BAH!
But back to the awesome. Brook Blanche has a bit of that dirty-I'mna-getchya, Howlin' Wolf in his voice. Kody Oh! is mesmirzing with his head banging, stand-up bass playing and Joey Henry hard-drive-handjobs that banjo so fast you can't imagine standing still to the sound. Thank ye gods I get to see these fellas again at
Mudy Roots
this year. Here they are being frikkin radtits amazeballs:
Yes, you should
buy their merch
and go
see them live
.
Right now, is when you might be saying, "BUT PATTY! Going to see live music costs GREEN and I'm browner than Arizona grass," whereupon I say,
COUGH UP THE DOUGH! Most, if not all, of these bands play in small venues that cost maybe 5-12 bucks. DO IT. They give you a helluva lot more for your money than shitbag arena rockers. 5-12 bucks is approximately 2 drinks at Starbucks. It's a trip and a half to Chipotle. It's DOABLE!
Back to Moonrunners...here are a few other things I noticed:
Ol Red Shed/
Coondog and the Stumpjumpers
were a throwback, simple stringband. Strong playing, good songs. Good openers.
The Dirty Generals
- kinda bluegrass meets garage rock. I dug it. They opened for The Whammy coupla months ago.
Pearls Mahone
- kicked ass as usual. This rockabilly queen is a hardworking red-headed machine. Love her. LOVE HER.
Jayke Orvis and the Broken Band
- what I saw of them was badass. They continue to do great things.
Rachel Brooke
- was beautiful and sang beautifully, but I wish she had her backup band with her. She went on abt 10 pm and things were getting a bit slower and tired. A full tilt band coulda helped liven up the joint.
And hell, I'm sure there's more, but this post is getting huge and I need to be getting ready for the library.
Was Moonrunners worth it? Totally. The last thing I'll say about it was the crowd was one of the friendliest I've encountered. The roots music community knows how to have a good time together - - - now I just want to get more of the sons a bitches dancing. Me and my gal Shawna seem to be two of the only people continuously stomping around at these shindigs. I wonder if that's just a Chicago thing. CHICAGO, GET DANCING GODDAMN YOU!
:: high fives and talk to you later ::
Me and this fella.
I watched a movie that wrecked my brain in the most phenomenal way!
Lemmy
. The movie. Here it is:
Backstory: Lemmy Kilmister is the lead singer of the band Motörhead. Lemmy was metal before metal existed and has lived life the only way he knows how, as a goddamn renegade of rock. Without Lemmy, there would be no Motörhead. Without Motörhead there would be no Metallica, no Slayer, no Megadeath and god forbid, no Anthrax - let alone the legions of bands that they inspired.
Lemmy
. The movie. It's 2 hours long and hit me hard.
One of the quotes that was most interesting to me was by Henry Rollins. Rollins said he once was talking to Lemmy and Lemmy said he "remembered
a time before rock 'n roll."
Whoa. Pause. Reflect.
Obviously, there was a time before rock 'n roll. Obviously. I'm not an idiot, but it is an odd history-to-human connection when you realize there are people, still living, like my own parents and Lemmy, who remember a time when all they could get was their mother's Rosemary Clooney albums. Yes, yes, and swing and jazz...and I'm not trying to downplay any of the music of the '40s or how wild it got. I love it. BUT..."The Time Before Rock 'N Roll"...it sounds like a story I have to write. And how...just how in the hell does one go from Rosemary Clooney records to being a leathered-up, heavy metal, cowboy hellion? How?
Little Richard.
Seriously. Lemmy's idols, his influences (still), were the early rock 'n rollers.
Little Richard
.
Jerry Lee Lewis
.
Elvis
.
There are more, but that is his holy trinity. (And CHRIST! Two of them are still alive. HISTORY! Living history.) So you mix a gorgeous-howlin', gay, black Southerner with a piano-burning, cousin-kisser and a rockabilly hip shifter and you get an English, speedfreak, war historian, monster of rock, cowboy from Hell.
That's when I throw my arms up and say HOLY SHIT, IT IS A BEAUTIFUL WORLD!
And...GODDAMN RIGHT, ANYTHING IS POSSIBLE!
I mean, Lemmy was born in 1945 and HE IS STILL ROCKING THE HELL OUT! Even though he's seen bands inspired by him get bigger than him, he's kept going. He's doing his thing. He has never done a damn thing he didn't want to do. He doesn't have any regrets because life's too short. He doesn't have a wife, but he has his art. I'm just saying...
It is possible to make art on your own terms and MAKE ENOUGH TO LIVE ON! And yeah, sometimes it takes fucking years, decades, but hell, it is possible. I admire the fuck out of people who go their own way and keep at it, even when no one is looking.
I am, of course, listening to Motörhead while I write this. One thing I notice about Lemmy's lyric writing...it's a bit Hemingway, a bit Raymond Carver, a bit gutter, and a hella rage for life. Shit is sharp. Driving. To the point. Am I saying he's the finest lyricist I've ever heard? Eh, maybe not. If you listen to enough Motörhead in one sitting, it tends to blend, but I am saying man's got dirty poignancy down.
I want to write hard.
I want to write dirty.
I want to make my own goddamn way with my integrity and creative vision in tact, even if the climb is slow and the money scarce.
What has Lemmy taught me tonight?
Do what you love.
Do it with full effort.
Never surrender.
...now to get my hands on his autobiography,
White Line Fever
.
DARLINGS!
I haven't been blogging over here that much lately.
BUT I HAVE NEWS! But I don't have time to get into it now. News includes:
1. I have a hand tattoo.
2. I have a new skeleton tattoo.
3. I am writing consistently again.
4. I am using tumblr more than livejournal.
SPEAKING OF TUMBLR! I am doing a post a day for National Library Month. You should go over there and check it out. Today's entry is on
John Masefield
.
More later. Now I have to put on ze makeup and go to the bar. I am working a wedding event...which is good because it is GUARANTEED MONEY! yeah. Yeah. Yeah.
K. I am coffeed up.
Hope y'all are well.
*SMOOCH to the WORLD*
Hey people.
Oh. My. Buttons.
Goddess of chaos, forgive this bitch for not writing so often.
Last week, I had what I will call throat mange. Imagine green, furry, jackbooted jerkholes running all up in my throat, nose, and brain stretch. BAH TO FEVER AND GREMLIN THROAT MANGE.
*
As of yet, I have not been rejected from Clarion West.
Because of this not-yet-rejection, I am OVER PLANNING!
I am all:

*How will I fundraise?
(parties?…donate button?…make buttons?...glittery hotpants shimmying on populated sidewalks with a hat in front of me...NO IDEA! 4,500 BUCKS PEOPLE…I would need to raise four grand and five hundos. WHOA. Just whoa.)
*What stories will I write while I am there? How much pre-planning/research should I do of these stories?
*Interlibrary loan that Clarion West book, Storyteller by Kate Wilhelm
*Read whatever I haven't read by instructors
*HOW WILL I FUNDRAISE?
But see, these are things…I don't have to worry about these things BECAUSE I STILL DON'T KNOW IF I'M IN!
And they only accept 18 students. So. There's that. Thousands of pounds of talented competition who all want to get up on Ellen Datlow, Joe Hill, Neil Gaiman, Elizabeth Hand, Samel R. Delaney and Margo Lanagan, as dang much as I do.
Rar.
I am no good at waiting.
What am I supposed to do?
Bake muffins?
I am no good at baking muffins. My friend Shotgun Shawna, is brilliant at making muffins. Ask her for her carrot muffins. GAH. They are so GOOD. Maybe I can get Shawna to make me muffins while I wait.
Sigh.
*
Moving on:
Hello.
:: waggles fingers ::
:: bats eyelashes ::
*
Moving on, part two:
I am considering starting my own youtube channel that would feature whizbang book reviews and randomness. If I do this and by if I mean – when I can get my oddly lazy, yet determined ass in gear – I will have a pumpkin sidekick. I already have a pumpkin sidekick. None of you know of him yet, which is truly a shame. He's a wonderful kid. Little dude's name is Boil. He lives on crackers and air and sometimes makes large robots in the backyard.
Boil, say hi to the people.
















…Ok. Apparently he is being shy and hiding in a duffle bag. You'll meet him later. ON MY YOUTUBE CHANNEL!
Which doesn't exist yet.
Just like my Clarion West rejection doesn't exist yet.
…which means I am going to go back to OVERANALYZING THE SITUATION!
Night all.

* * *

p.s. - Thursday, after work, I am driving down to Pensacola with Shotgun Shawna to see my friend Andrew and get TATTOOED!

That's all you get about that. Adventures and pictures to come.
Again.
We'll see, eh?
Mind frame: WIN AT LIFE!
* fingers crossed *
*
In addition, I moved out of my coach house and into my friend's home. I now live with a Kitchen Witch. She is wonderful. My room is cozy. I feel like I will get much work done here. It all happened over the span of about 2 weeks. Long, crazy story. We'll just leave it at, WHOA, I moved. Didn't see that comin'.
*
Random aside:
Last night I went to
Burlesque le Mustache
at the Double Door. I saw wonders including, but not limited to:
*glitter
*petticoats
*a man on a nail bed
*glass stepping
*boobs
*more glitter
*Danielle from
American Pickers
doing extremely hot burlesque
*more boobs
*Mickey Classic doing solo material (he usually being the lead singer of the
Goddamn Gallows
)
*the
Krank Daddies
*a hell ton of gold, sparkley bras and shimmy belts.
OI! WHY DO I NOT HAVE MORE SPARKLY UNDERPANTS AND SHIMMY BELTS?
Feel free, kind friends, to buy me these things. I am a 32B with 34 hips (usually fitting into small undersuches).
*
Also, NEAT! I want this bead cape. I think I am going to try to make it in the next coupla months: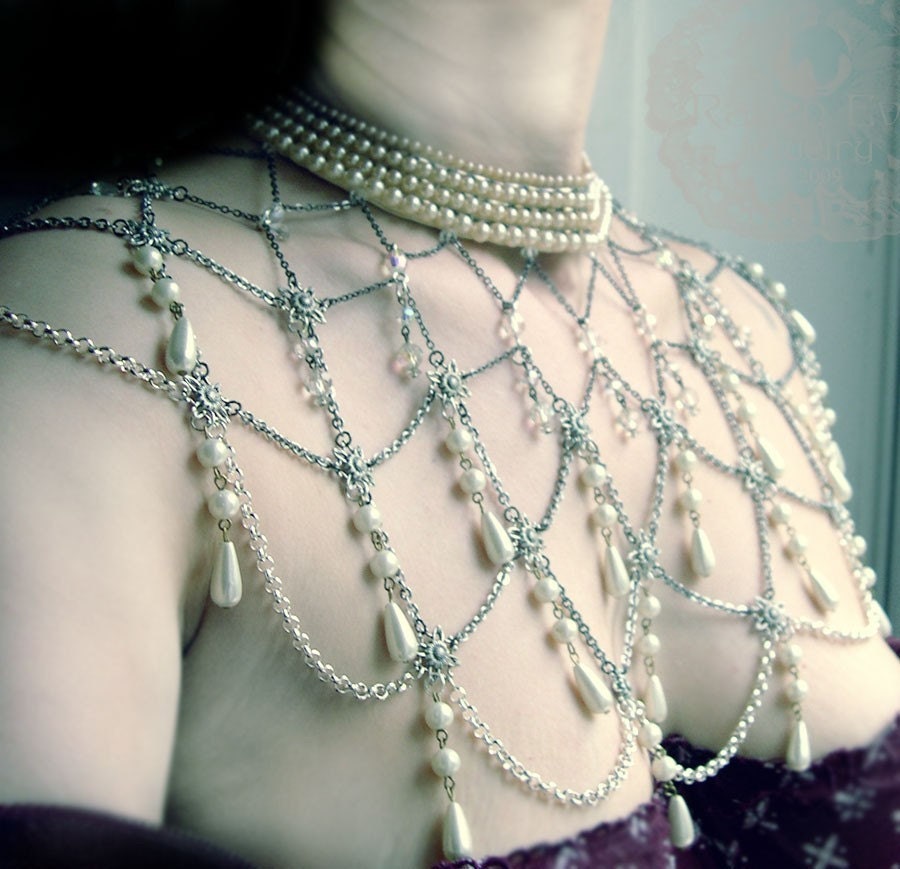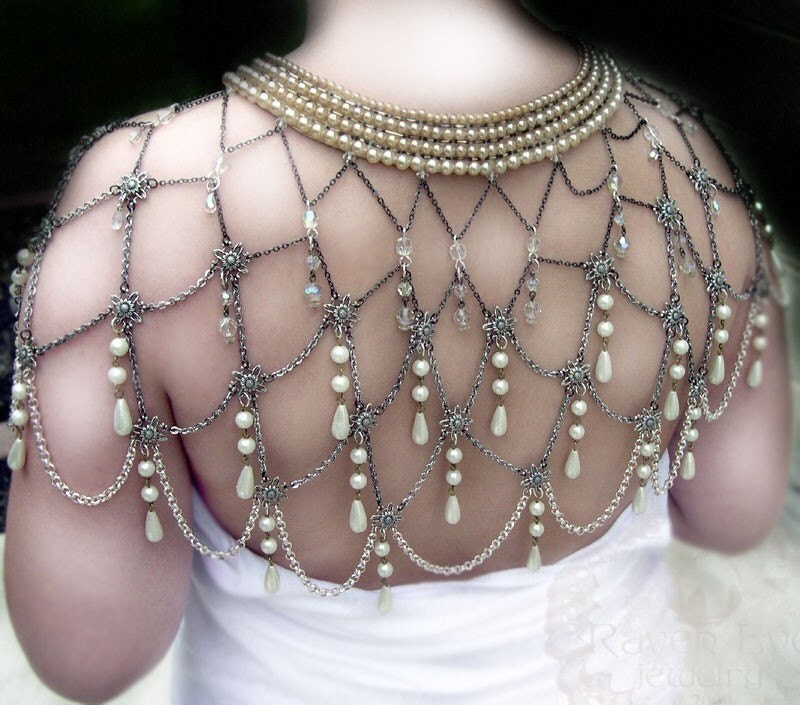 I applied to Clarion West.
Jayke Orvis and the Broken Band
, one of underground country's most hardworking, innovative bands, was hit by a drunk driver in a snow plow outside of Detroit, Michigan last night.
Luckily, all members are relatively unhurt. Unfortunately, their touring van was totaled and they've incurred over a grand of costs (2 tows, cabs, hotel for the night, etc) that a do-it-yourself, small label band can't afford.
Meaning: NOW IS THE PERFECT TIME TO BUY MERCH!
Help support a worthwhile, honest, badass band stay on the road.
Buy your dark country Orvis t-shirts and CDs
here
.


I feel as if my heart has been replaced with a lava well stocked full of non-lava-meltable, arsenic-tipped punji sticks.

I want a mace.

I want to hurt people.

I never want to hurt people. BUT CHRIST ALL MIGHTY seriously, SERIOUSLY? I have some shit relatives. Some devil inside sonsabitches.

Backstory: my uncle died last night of a heart attack. He was a good man.

My dad is a mild wreck and will barely hold a phone conversation with me. My mom is holding him together, but also trying to take care of my brother's sick infant. Meanwhile, my Aunt --- we will call her my Aunt le Asshole --- who was married to my uncle, calls up my dad to inform him that she FORBIDS certain people from coming to the funeral. Forbids. REALLY? REALLY? You, the one who married into the family - who USED TO KILL DOGS BY SOAKING BONES IN RADIATOR FLUID AND LEAVING THEM IN THE YARD - are holy and high up enough to forbid my uncle's own sister from going to the funeral. Why? Because of a feud between trailers from YEARS ago. Years. Then, my daddy, trying to force peace tells Aunt le Asshole if she is forbidding my aunt from attending, he wouldn't go either. And she basically said FINE.

And shit is just all over the place.

Aunt le Asshole is holding back information on when the funeral is and where.

I am now in the process of mapping out all of the funeral homes near their home in the middle of nowhere Indiana...if I have to call every damn funeral home in that county, I will, but it ain't gonna be pretty when I get there.

Stupid. Lots of stupid random other. FEH. FEH ON HER.

Feh on people and their grudges.

I lied. I don't want to hurt her. She is apparently already a festering sore of puss and hate already.

I want absolutely nothing to ever do with her again. GD effin' beast.

Today sucks.
I am rather the seething rage monster, at present.
Current Mood:

angry
I be on Tumblr.
Odd Rot will be full of weird art, books, overlooked music and writer miscellany.
Check it out.
*
Also, I am awesome. I revised/rewrote two chapters yesterday. I am halfway through another huge one today.
BACK ON TRACK!
How's about some celebration Pat Benatar:
YO!